'Believe, Excite, Succeed, Together'
Welcome to Moonstone Class!
We are a wonderful class of year 5 and 6 taught by
Mrs Swiffen.
We are also supported daily by Mrs Batchelor.
Autumn term 1 will be exploring Wars around the world, with a focus on WW2 - How did it change the world?

We have lots of exciting things coming up this term and hope you will enjoy learning about this topic.
Page 1 -
showing articles 1 to 3 of 3
Cranwell Aviation visit
We enjoyed our visit to the aviation centre at Cranwell as part of our WW2 topic
Galleries
Enterprise project for the carnival
We made bird feeders to sell at the carnival and decided what profit we would like to make.
Galleries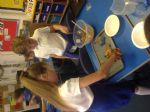 Enterprise
Our Collective Worship Council led a worship today
Page 1 -
showing articles 1 to 3 of 3